Prof. Saeed Zeinolabedinzadeh
Arizona State University
Scaling has considerably improved the speed of silicon devices offering transistors with fT and fmax well above 300 GHz. This has opened new activities for the circuit design at upper mmW and sub-mmW frequencies. More importantly, the so-called THz frequencies that have been traditionally untouched, have found promising applications for sensing, communications, imaging, and security. I will first talk about the status of the current silicon-based technologies for designing circuits at sub mmW frequencies. Challenges and opportunities of wireless communication at sub-mmW frequencies toward next generation communication and radar systems including 5G and 6G systems will be discussed. Promising circuit architectures for a potential sub-mmW wireless comm and sensing, and a few examples of the circuit designs along with potential applications for imaging and fingerprinting will be demonstrated.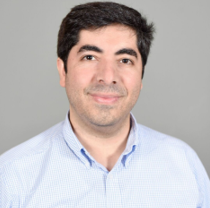 Saeed Zeinolabedinzadeh joined Arizona State University as an assistant professor in 2018. He received his doctorate in electrical and computer engineering from Georgia Institute of Technology. He was a postdoctoral researcher at Georgia Institute of Technology before joining ASU. Zeinolabedinzadeh's research has been focused on developing new RF, millimeter-wave and Terahertz integrated circuits (DC – 300+ GHz), as well as, high-speed integrated electronics-photonics circuits for space applications. This includes high-speed IC design for radiation-intensive space environments, radiation hardening, as well as, design for robust operation over the temperature down to cryogenic temperatures.